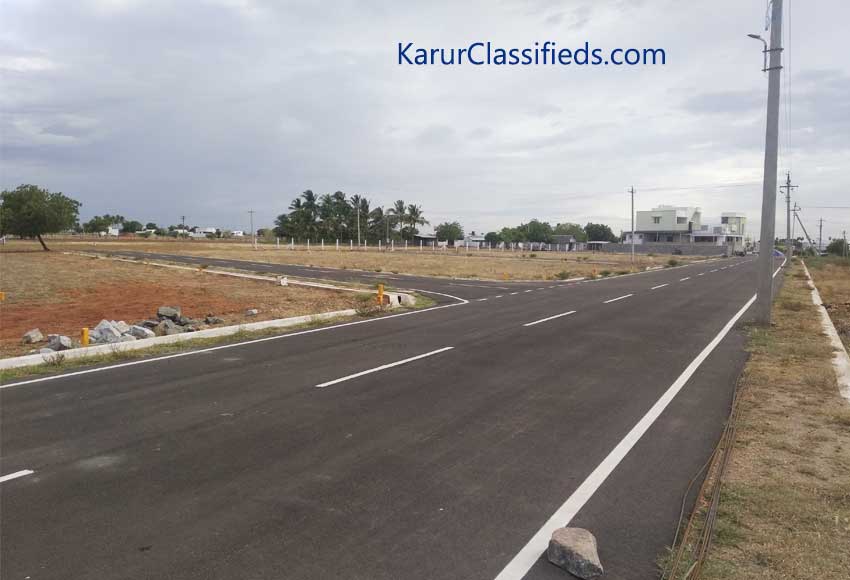 Land for sale in Karur Gandhigramam is shown in the above image, no pollution on this land. This is a Housing plot; Houses are being built in near plots.
This land consists of 20 housing plots for building houses. The land area starts from 1,000 square feet to 2,400 square feet. North, East, and south-facing residential plots are available. The width of the road is 30 Feet. The dimension of the plot is 20*60 feet, with 20 Feet of road facing. The land of 2,400 square feet has 40 feet of road facing.
This land is appropriate for building homes of 1,200 sq. feet to 2400 square feet. The Land document is real and with no issues, this plot is extremely suitable for investment purposes. Private schools and hospitals are nearby these plots.
Land for sale in Karur Gandhigramam has increased due to its development in recent times. Karur Medical College and many private schools are in Gandhigramam; which makes this location a prime area for real estate investment in Karur.
Cauvery water pipe line connection is available in this location and Mini bus facility are available in each street of this Land in Gandhigramam.
Only Direct buyers; contact us.
Note: If you have any specific requirements for Land for sale in Karur, Houses for sale in Karur, or Plots for sale in Karur – please feel free to send your requirements in the FORM available on the Contact us Page.
Listing ID

:

790

Price in Lakhs ₹

:

21 Lakhs

Plot Area in sq.ft

:

1200

Length in Sq.ft

:

60

Breadth in Sq.ft

:

20

Listed by

:

Owner

Approved

:

Karur Municipality

Temple Land

:

No

Facing Direction

:

North

Road Facing Length

:

20

Boundary

:

Fence

Land Mark

:

Near Bus stop